There are a lot of tools already out there that will check how your site ranks for particular keywords, but 99% of them request search results and try to scrape them. This gives issues on localization based on the country and ip addresses of the scraping server - so I do not feel these scraping type tools will ever give you a true keyword position.
Google Search Console (GSC) stores ranking information about each search query your site is displayed for - although it takes a number of clicks to get this information. So trying to track a number of keywords just using GSC is impossible because of this.
Thankfully - if you hook SanityCheck up to GSC it can pull the keyword data through and display it all nicely on one screen. As well as the ranking position we can also show you how many impressions and clicks each keyword has had.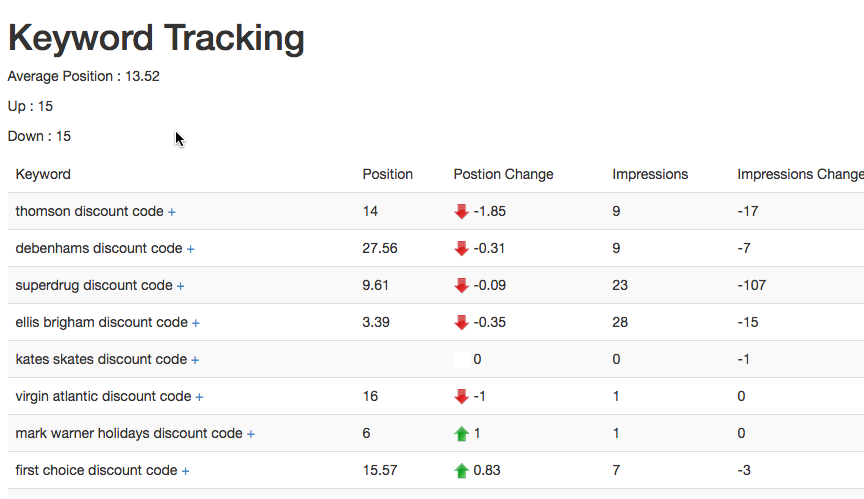 ​
You can currently define as many keywords as you want - and optionally choose whether you filter the position information by country or/and device.
One down side of using keyword positional data from GSC is that it is only as up to date as GSC is - and usually it lags 2 days behind. I feel the accuracy of this positional data compared to scraping rank-tracking tools is a big enough compromise on the 2 day lag. Plus if you are checking your keywords every day (may be hourly!) it can drive you mad :-) At least all the keyword data in SanityCheck updates in one go and you get an email alert when it has.
What is also good is when you add a keyword to track, we can display 90 days of historical positional data already as GSC keeps this. This isn't possible for normal scraping type rank tracking tools.
Please give this a try (you can register for free on the front page), would be really keen to hear any feedback, thoughts and ideas...