What keywords has your site started to rank for?
Ever wondered what keywords your site started to rank for today?
This is particularly useful if you are a content heavy site. As you publish new articles and as Google refines topics within it's algorithms you'll start to rank for a bunch of new keywords.
SanityCheck now has a new report! The 'New Keywords' report.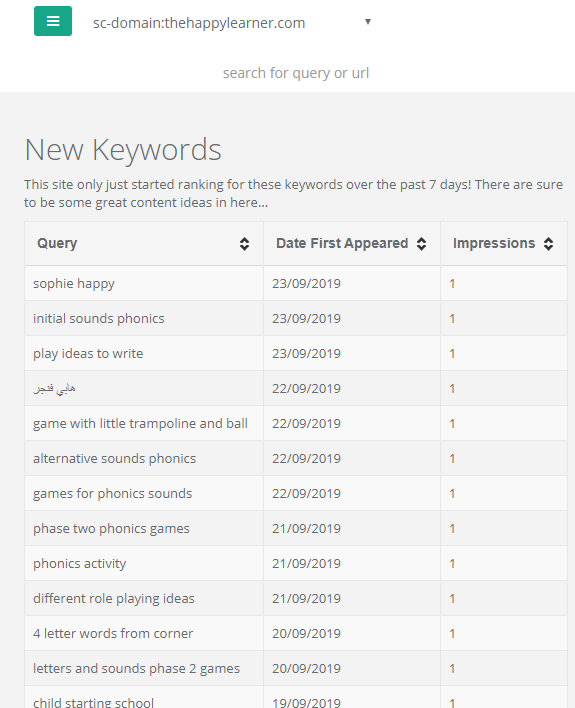 It displays the keywords your site has started ranking for over the last 7 days.
Within all these new rankings, you'll find new content ideas you can base new articles off, and get new clicks.
This is something I put together to see how useful you find it so all feedback would be much appreciated.
Ideas to improve the report:
Export the full list
Remove keywords (helpful for processing the entire list and removing keywords that aren't useful for new content ideas)
Save keywords ideas to the Whiteboard
Would you find these additions useful, and what else would you like to see?
Personal update #1
Isabel my daughter finished her leukaemia treatment recently and today got to ring the 'end of treatment' bell. Super proud of her for how she has handled everything over the last 2.5 years : https://twitter.com/nickswan/status/1176875366167797760
Personal update #2
A couple of weeks ago I cycled from Lands End to John O'Groats (the whole length of the UK) over 9 days to raise funds for Clic Sargent. You can see some pics of the ride here: https://twitter.com/nickswan/status/1177144644997648384
Thanks for reading and your continued support